Do you need a round rod locked in a specific position? There are several ways to do this: Electronic control, blocking all ports or using the hydraulic clamping device Ratio-Clamp®. Ratio-Clamp® features a number of advantages.
rod clamping without energy supply
cost savings thanks to no energy loss
safe clamping in case of system failure
hydraulic clamping for an unlimited period of time
accurate locking in any position
safety even in extreme conditions such as heat or cold
Comparison of advantages and disadvantages of locking options for round rods
 
Electronic
control
Blocking ports
 Clamping device
Ratio-Clamp®
Energy efficiency
 –

 + 

 + 

Accuracy of position
 + 

 –

 +

Independence of external factors 
 + 

 –
 +
Time and effort
 –

 +

 +
Regardless of hydraulics and electronics, Ratio-Clamp® will hold the piston rod in any position for any amount of time – no energy supply required.
Case example: The energy required for clamping a piston rod:
A hydraulic cylinder with an 80 mm bore is moved at 150 bar with a speed of 0.5 m/s. The drive power required is 38 kW.

Power loss when holding
When using an electronic control system with a controlled pump, the power loss to be expected at the pump is approx. 1.25 kW, plus a loss of approx. 1.25 kW at the control valve. So in this example, the total power loss with the controlled drive would be 2.5 kW. With a holding time of 5.000 hours a year, you'd lose 12.000 kWh.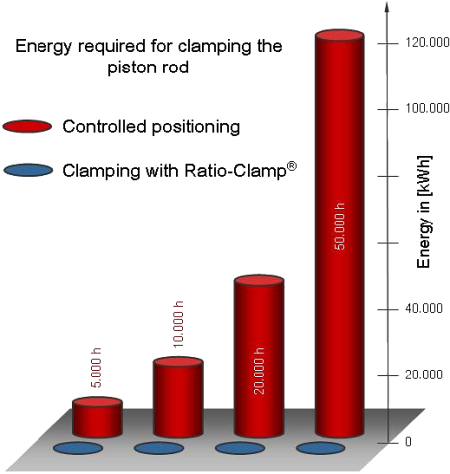 Ratio-Clamp® uses spring power for holding, which is why there is no need for hydraulic or electric power.